Two branches had such a strong July that they are both being awarded Branch of the Month honors. Congratulations to SW of Canton and SW of Richmond!
SW of Canton began in the spring of 2016 and has already surpassed his DUT totals from last year. In less than a year, Danny has shot up the rankings board and is poised to crack the top 100. Danny lives in Boliver, OH and services the Akron, Canton territory.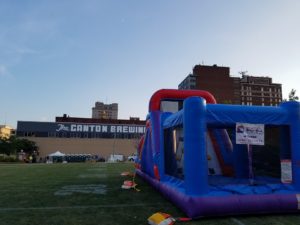 You may have seen one of Danny's clients by watching the NFL HOF game this past weekend.  On top of working a full time job and running a growing Space Walk branch, Danny surrounds himself with his wonderful family; sons Justin and Logan, and wife Leslie.
SW of Richmond started with us this spring and has sprinted out to a very impressive summer. Taking advantage of a bustling community and multiple college campuses, RVA has thrived in a way few first year branches do.
When he's not hustling inflatables Hunter is a youth pastor. He is assisted at Space Walk by his father, Bob, who travelled with him to New Orleans for Partner Training.
Congratulations to both branches on your success in 2017!