"What is the best kind of Facebook post?" is a common question I hear from Space Walk partners. There is no on answer to this question though. The best Facebook pages post a variety of content, like inspirational quotes, videos, images, or jokes.
I have assembled some of the best Facebook posts from around the Space Walk FB network for this blog. Check these out below, with an explanation for each one.
Product Promotion
The bread & butter of your Facebook business page should be to drive sales. Check out Scott Ayres' detailed post on booking $2,400 in rentals using $20 on his Space Walk Facebook page.
Here's a post from Space Walk of Crestview, ran by the excellent Dave Mason. Notice how he includes a personal touch and a phone number.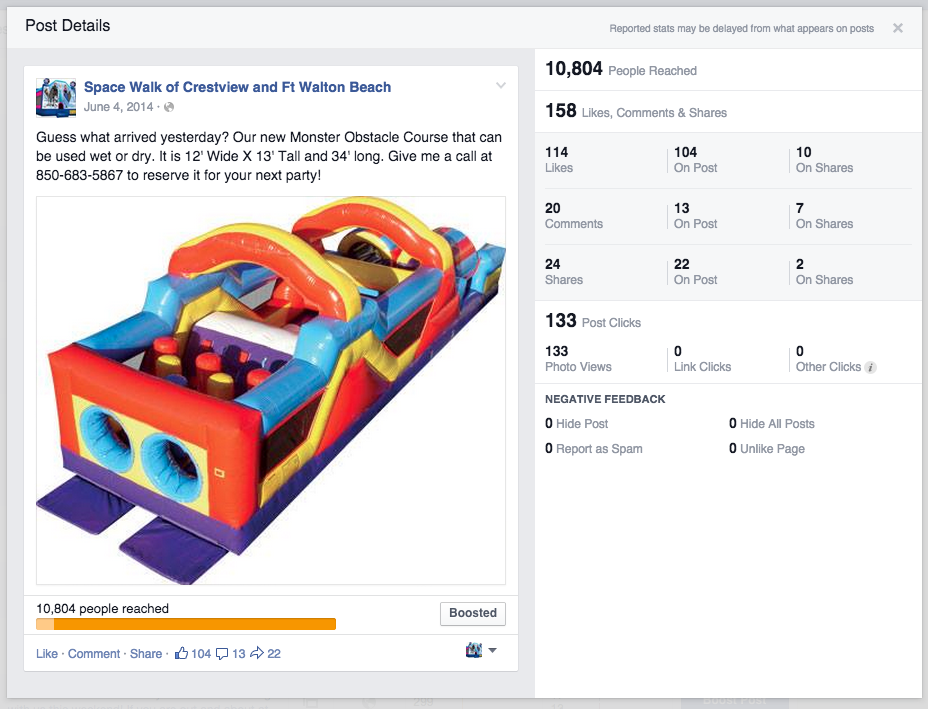 You can see on the Reach breakdown that most of this post's reach came off paid advertising. Facebook understands when a post is promotional and lowers the organic reach – you can get added impressions (increased Reach) by adding a paid boost. The interaction with this post is excellent, it has over 100 likes. Additionally, the 22 shares led to 10 more Likes and 7 more comments.
Pro Tip: If you notice a post is getting a lot of Shares and Likes then it is a great candidate for a paid boost.
This next post is from Ricky Dinger at SW of Morgan City. He used a screenshot of his website to capture images of his bouncers, and then advertised a special price point. Simple and clean.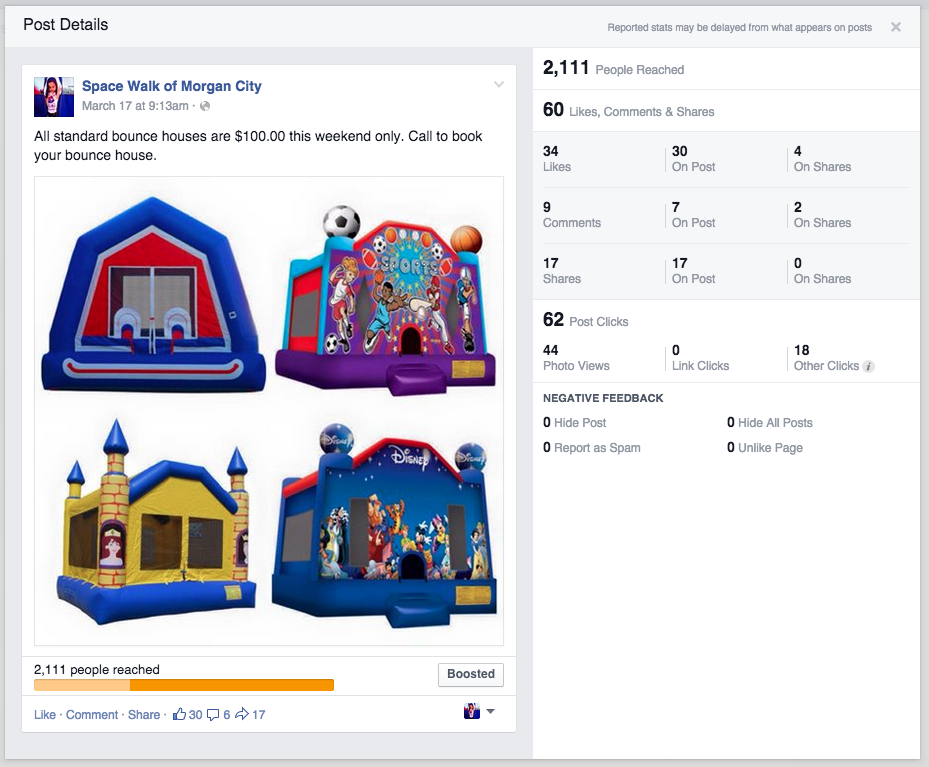 120+ engagements and 2,000+ reach – must have been an expensive boost right?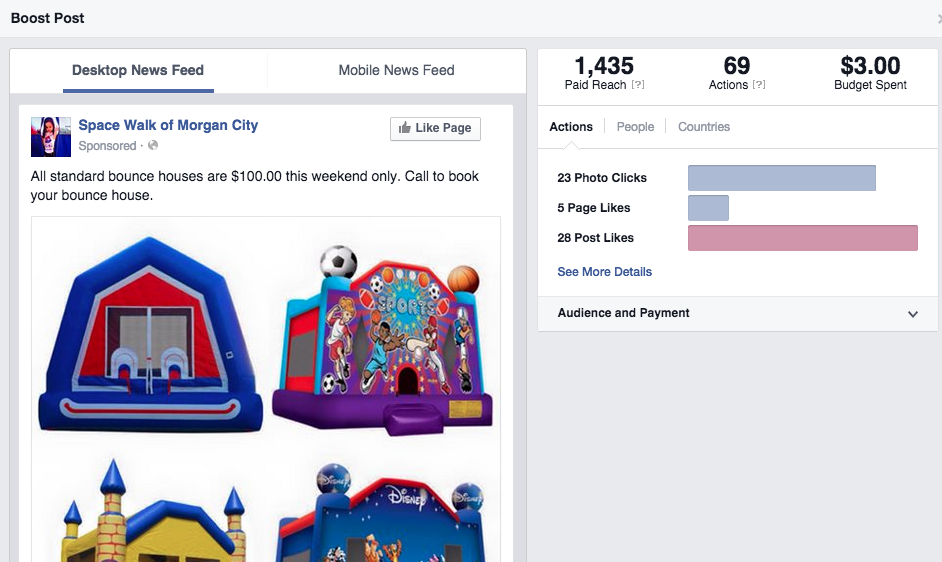 Nope! $3 is all it took for 1,500 in reach and 69 engagements.
Paid boosts and organic reach are both influenced by engagements (likes, comments, shares, photo clicks) – the more engaging your post is, the more exposure your post can receive.
Flash Special
Hurting from a last-minute cancellation? Don't sweat it, Facebook is your friend in these situations. Check out this post by Dave Sells from SW of Middle Tennessee.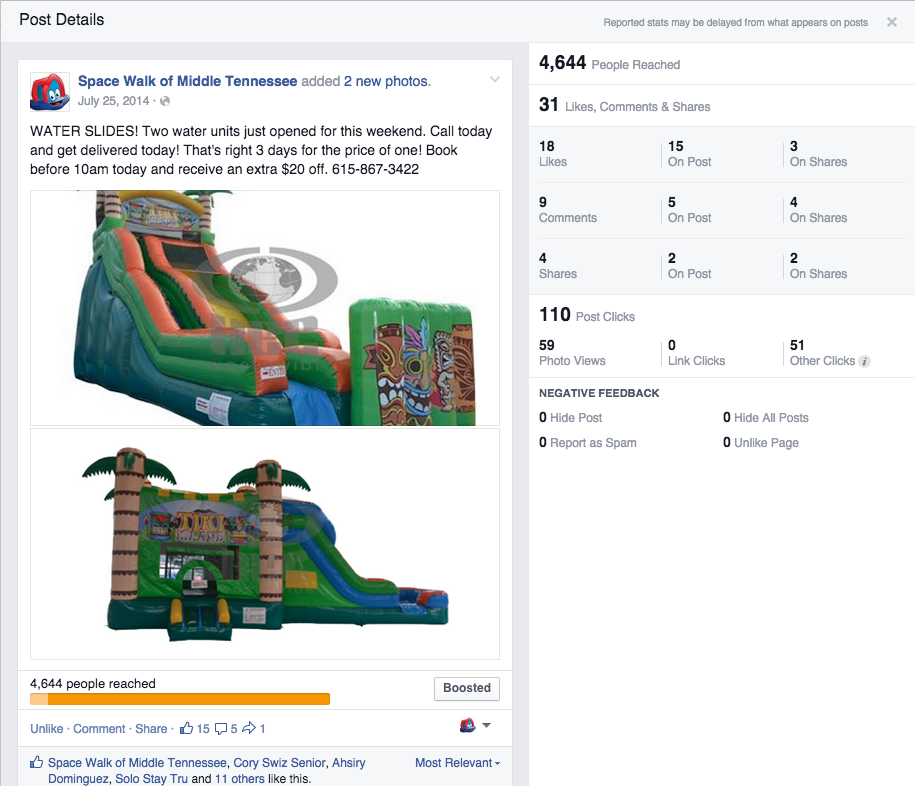 Dave incentivized the offer by making it a weekend-long rental. If that's what it takes to get a unit out of the garage and into a backyard, then go the extra step – after all, it is the extraordinary Space Walk Customer Service that makes our great branches memorable.
Additionally Dave offered a discount if the unit was booked before 10 am – adding a sense of urgency for customers to book.
Personality
We've covered a few ways to promote your product, now let's look at how to promote your personality. Social Media is about making connections, this applies to personal profiles and businesses. Here are some great examples of ways to relate to and entertain your Facebook fans.
Humor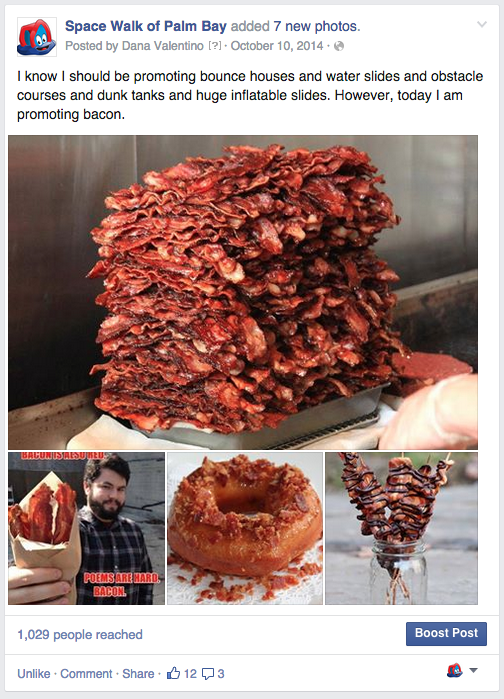 Are you done laughing yet? This beauty is the work of Dana Valentino at Space Walk of Palm Bay. Dana did a great job, appealing to basically everyone alive (because who doesn't love bacon?) – and the reach shows it. 1,029 organic impressions, on a page with around 500 likes.
In addition to the hilarious text, Dana also added 7 photos – specifically, ridiculous but strangely captivating photos – which led to more engagement than usual as users clicked through multiple images. Even though the post only had a handful of likes and comments, the reach went way up with over 325 image clicks.
We may not all be as funny as Dana, but just remember to have fun with your customers 🙂
Connect
Put a face and a story behind your branch's Facebook page. Here is an excellent example from Garrick and Hannah Vest family at Space Walk of Enterprise.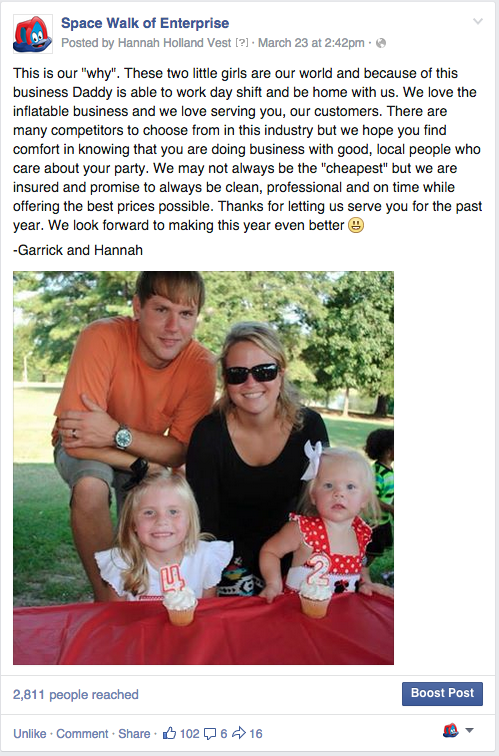 Great branding is about telling a story, this could not be a better example of that!
The results make it clear that they connected with their fan base – collecting over 2,800 views, 100 Likes, and 15+ Shares – without spending $1 dollar on a boost. Everyone has a unique path that led to them entering the inflatable world with Space Walk – share yours!
Appeal
As an inflatable operator, chances are you spend a few weekends a year involved with charity events. Relay for Life, March of Dimes, and local charities love to have inflatables to entertain children with.
If you are involved either by donating a unit, or renting one at a discount, promote that on your Facebook page! Charitable events show how integrated you are into your local community. Charitable actions appeal to the best part of your fans – look at this example from Ben Stearns at Space Walk of SE Missouri.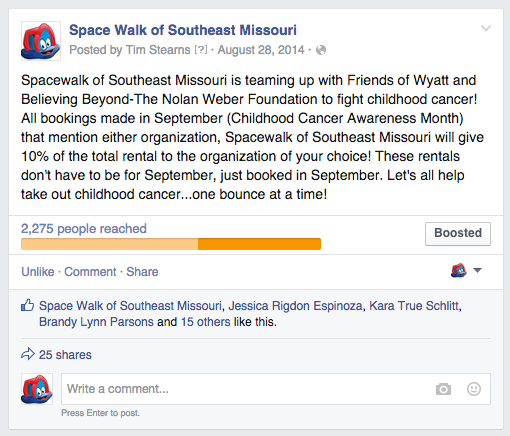 Simple, text-based, promotional but for a good cause. What better way to bring people together than a bounce house rental? With 25 Shares and 2,275 people reached that message was heard by many in the community.
---
Had a post that performed well? Humblebrag! Post it over at the secret SW Facebook group!
Now that you've looked over all of these excellent posts, assess your Facebook page with our 5 Facebook Fundamentals. Take the next step by learning Paid Boosts and how to double your Likes with a Page Promotion.
Need one-on-one help with learning Facebook? Schedule a training block with Spencer.