On Facebook there are two primary types of paid advertising:
Post Boost: This is when you pay to boost the reach of a post you made on your page's wall. This type of ad will show up in user's timeline as a sponsored Facebook story. This type of ad is excellent for comments and phone calls. Learn more about boosting posts with our guide!
Page Promotion: This paid advertising utilizes Facebook's sidebar for promotion as well as the timeline. This ad is optimized for Page Likes which grows your network you consistently reach out to with your posts.
If you've graduated from our Five Fundamentals of Facebook course, you're ready to take the next step with this guide on Promoting Pages.
---
Promote
To begin log into your Facebook profile and access your branch's page. From the main screen you will see the 'Promote' tab in the top right.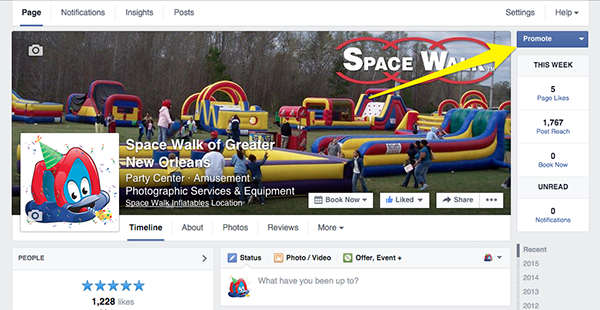 Once you click Promote it will give you two options, select Promote Page.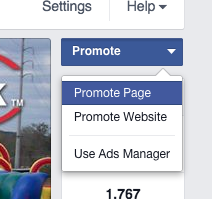 Create Ad
Once selected a screen overlay will appear, displaying a preview of your ad, audience, and budget.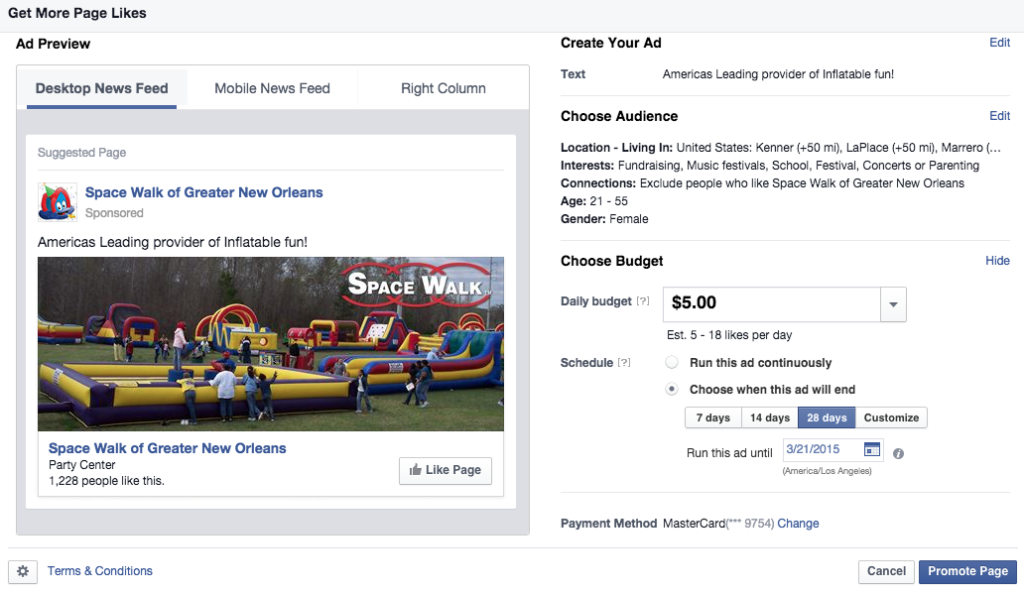 "America's Leading Provider of Inflatable Fun!" is generic text I attach to our ads. The point is to get page likes with a page promotion, so don't add your phone # or website to the text of this ad. However, try experimenting! See if different text choices increase your click-through-rate.
Pictures are very important for these ads; failing to have a professional, informative image will be detrimental to the results of your campaign. I suggest using one of our branded cover photos – these photos are all high quality, the appropriate dimensions, and branded with the Space Walk logo.
Audience
Choosing the right audience consists of four factors:
Location
Age
Gender
Interests
For location you can select a city, plus a radius. For example, here I selected New Orleans, LA +10 miles. This means my ad will only be displayed to people in New Orleans, or within 10 miles of the city.
You can see in the example below I selected multiple cities within GNO's territory.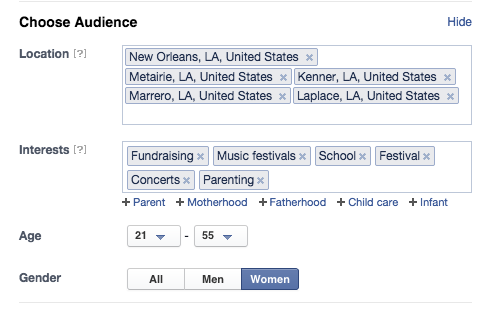 For interests there are many different types you can select:
Fundraising
Music Festivals
Non-Profit Organizations
School
Festival
Parent-Teacher Association
Parenting
Parent
Motherhood
Fatherhood
Child care
Day care
Grandmother
Grandparent
Party Planning
Disney
Frozen
Pixar
Use at least 5-8 different interests.
For age I suggest a range that will capture mothers of all ages (maybe even young grandmothers) – this will vary by region, but 21-55 is a good range to start with.
I prefer advertising to just women because a.) it cuts my audience population in half and b.) women are traditionally the decision-maker for backyard parties and other family events.
Budget
Budget is just two factors:
For your first promotion see what kind of reaction you get with $1/day for 30 days.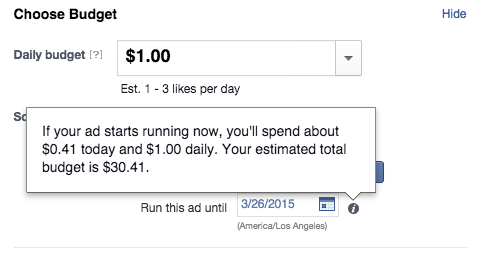 You can use your Co-Op budget for Facebook promotions, with approval – which can be requested here. 
Review
Make sure you review your ad before you post it! Check all three previews to make sure you're image and text look perfect: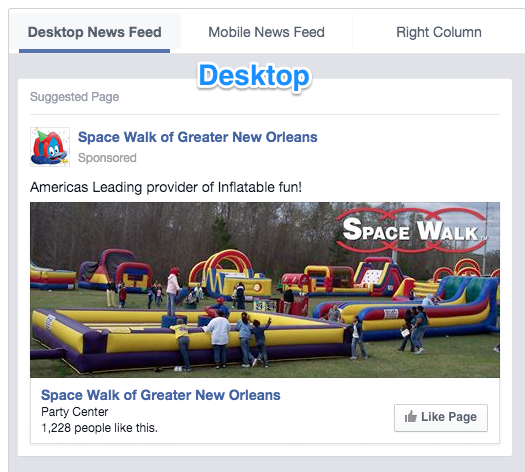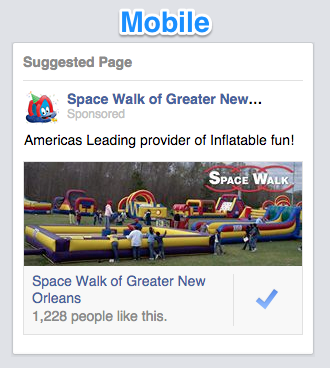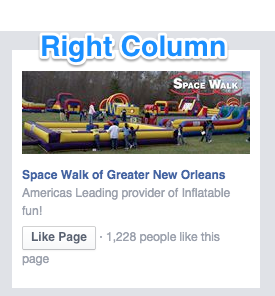 If everything looks all good, go ahead and click Promote Page. Your ad is off into the inter-webs!
Track and Analyze
Facebook provides some great tools to track your ad performance. While it may seem a bit intimidating at first, with a little practice you will learn the Ads Manager tool in no time!
To access the Ads Manager click it's icon on the Facebook home page.


Depending on how many promotions and page boosts you've ran, you'll see all of your ad sets in the manager.

For the set we just created, I am going to click "Promoting Space Walk Inflatables".
Once in the ad set you will be able to look at all the relevant data for your campaign. In this screenshot, you can see our national page got almost 700 likes for around $215. That averages out to $0.31/like which is a decent rate.

(Right-Click and open image in new tab/window to enlarge)
You can also hover over specific dates to see the likes incurred on that particular day from the ad.
You should expect to pay even less than that, if you follow the best practices, because your target audience will be reached much easier. Our national page advertises to over 20 entire states, which drives the price up due to the more expansive reach.
---
Congrats! You are now ready to run a successful Page Promotion! Make sure you're fundamentally sound and know the ins-and-outs of boosting posts as well to be a total Facebook for Business expert!
Questions? Contact Spencer@herecomesfun.com – Thoughts? Advice? Let us know what worked for you in the comments below!