I know many have asked about cleaning, but I can't seem to get this type of leaf stain out. Any advice would be appreciated!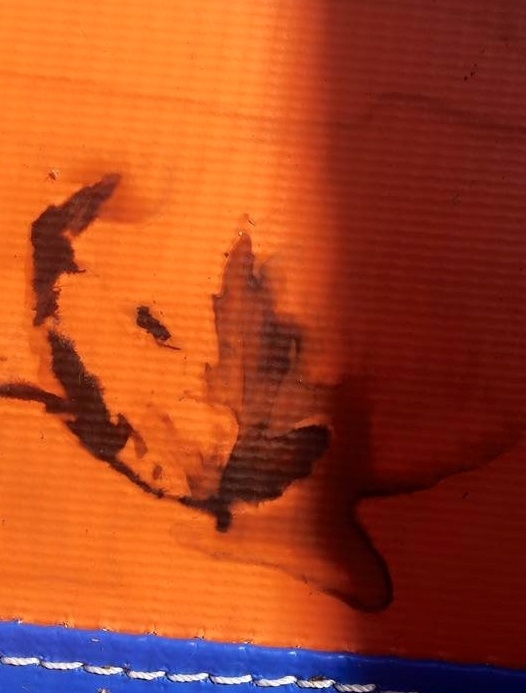 JT as far as i know, that will not just come out. however, over time the sun will fade it. A small amount of touch up paint can be handy as well especially for yellow.
I had my yellow on a slip n slide get super stained up from being deflated, water puddled on yellow, then oak tree stuff was sitting in the puddle. it resulted in huge puddle shaped brown stains all over the yellow, however in 2 rentals they were gone from sun.
Dave Mason
 The short answer is that you can't scrub it off. Jonathan is correct though that time and sunlight exposure will get rid of it.
Reece Bertholf
 Its a hard lesson but the only way is to never let it happen….. Rinse each time you pickup and if you can't then as soon as its home/back at the shop. Organic material is very frustrating.
Michelle-Ryan Lopez
 Its devastating! Ive tried everything – toothpaste, baking soda peroxide, turpentine, magic eraser, everything!
Aimee Cook Rasche
 Thanks everyone! Let's just hope it comes out over time. We picked it up after a hard rain and the leaves were in it. I might try the paint too!
---
We have a unit that is really stained. The previous branch directors seemed to live to roll units wet. I have tried everything to get these stains out. Anyone have a trick? Please help, I would be embarrassed to rent this unit.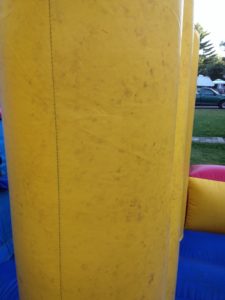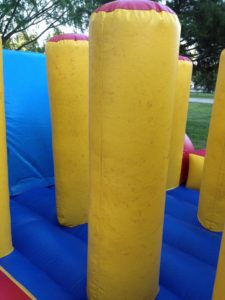 Scott Ayres
 Yeah not much will get that out, I have a few like this too.
Dave Mason
 I looks like embedded mold. If bleach didn't do it then I don't think it will clean up. I have had a few in the past with spots but not that bad.
David Montang
 Try this stuff. Another partner recommended it to me and it works when others wont. Very important….follow the directions.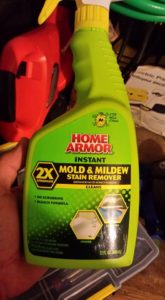 Steven Payne
 When I've allowed a 3:1 bleach solution to sit for an hour it has helped some but never completely removed the stain.
Cory Swiz Senior
 Purchase some JoMax. Take a look at the back of the bottle – it has a mixture of JoMax and bleach. Spray the unit with the mixture, let it sit for a half hour or more, then try to wipe with a magic eraser. It that doesn't do it, I haven't seen much that will
Barbara Toth Clark
 Magic eraser has worked wonders for us along with odoban. But we used the extra strength magic eraser, the regular one wasn't cutting it.
Jennifer Drawbaugh
 We received a unit like that this when we first started over 8 years ago. Any cleaner with bleach will eventually take it out with repeated cleanings. It just takes time, but they will go away.
Sarah Mordhorst
 We magic erased it galore and it mocked us last night. Then we soaked it overnight bought the Home Armor stuff shown above and scrubbed it again this morning. It looks miraculously better. It still isn't spot free but we feel like it can go out tomorrow. We are drying it out still. Thanks for all the help!